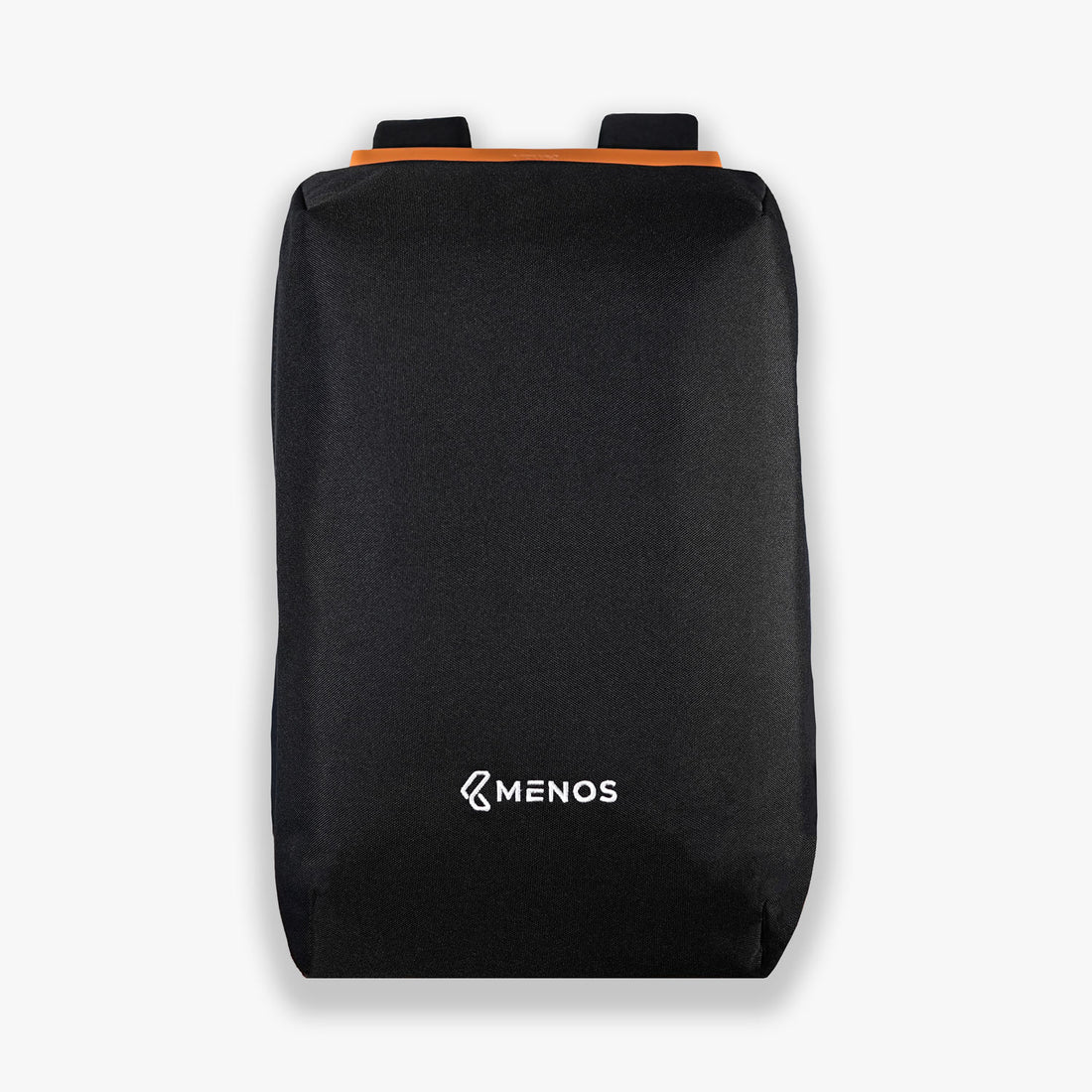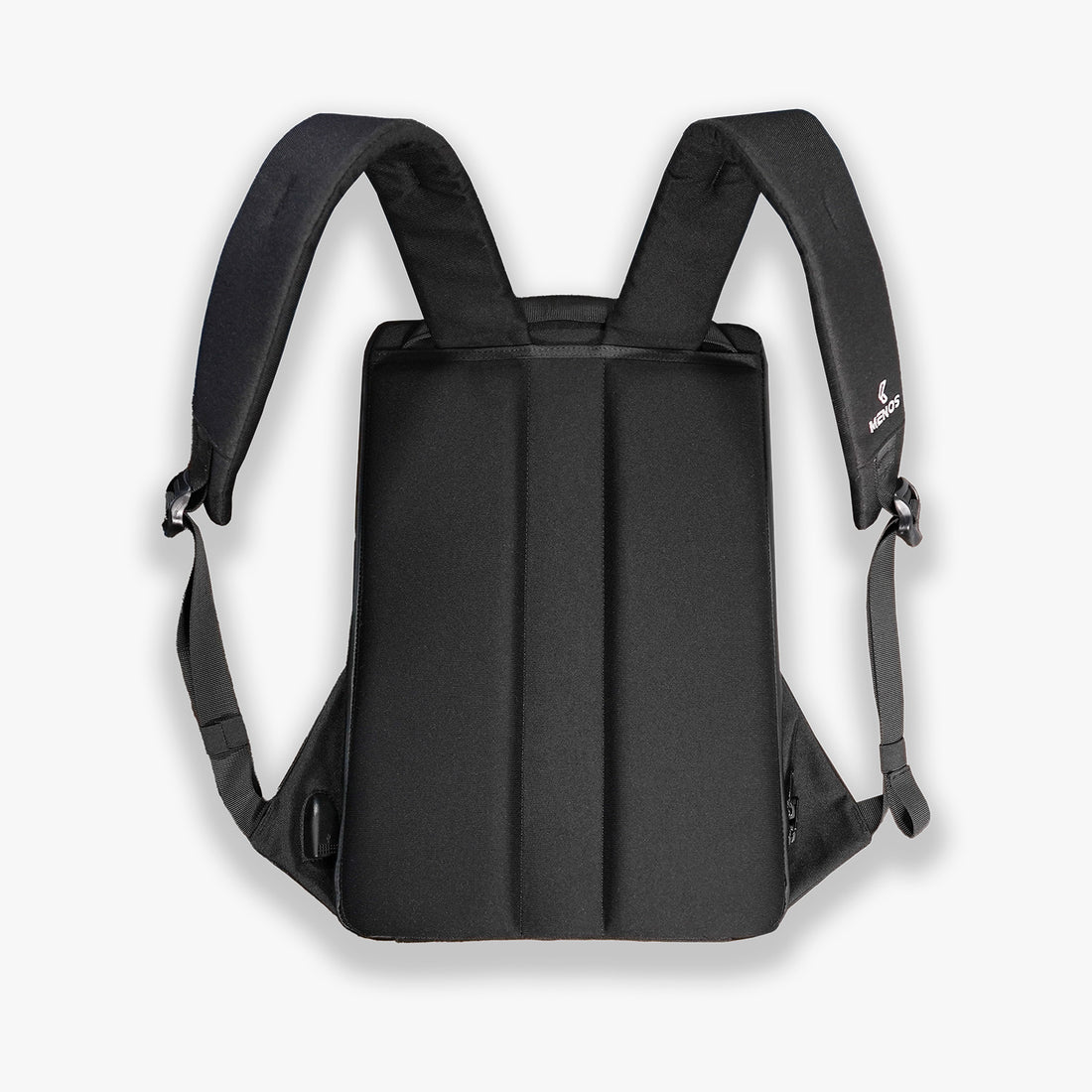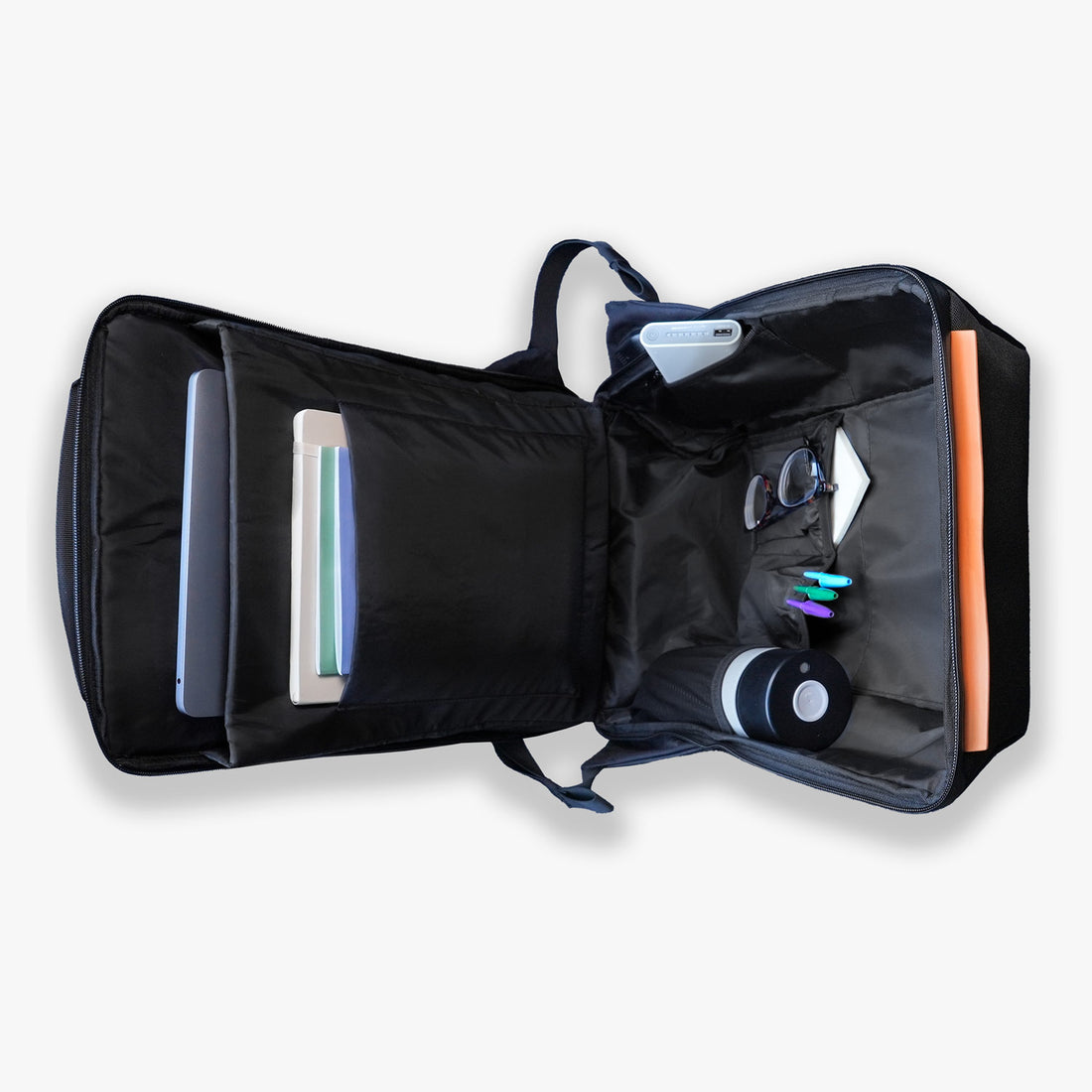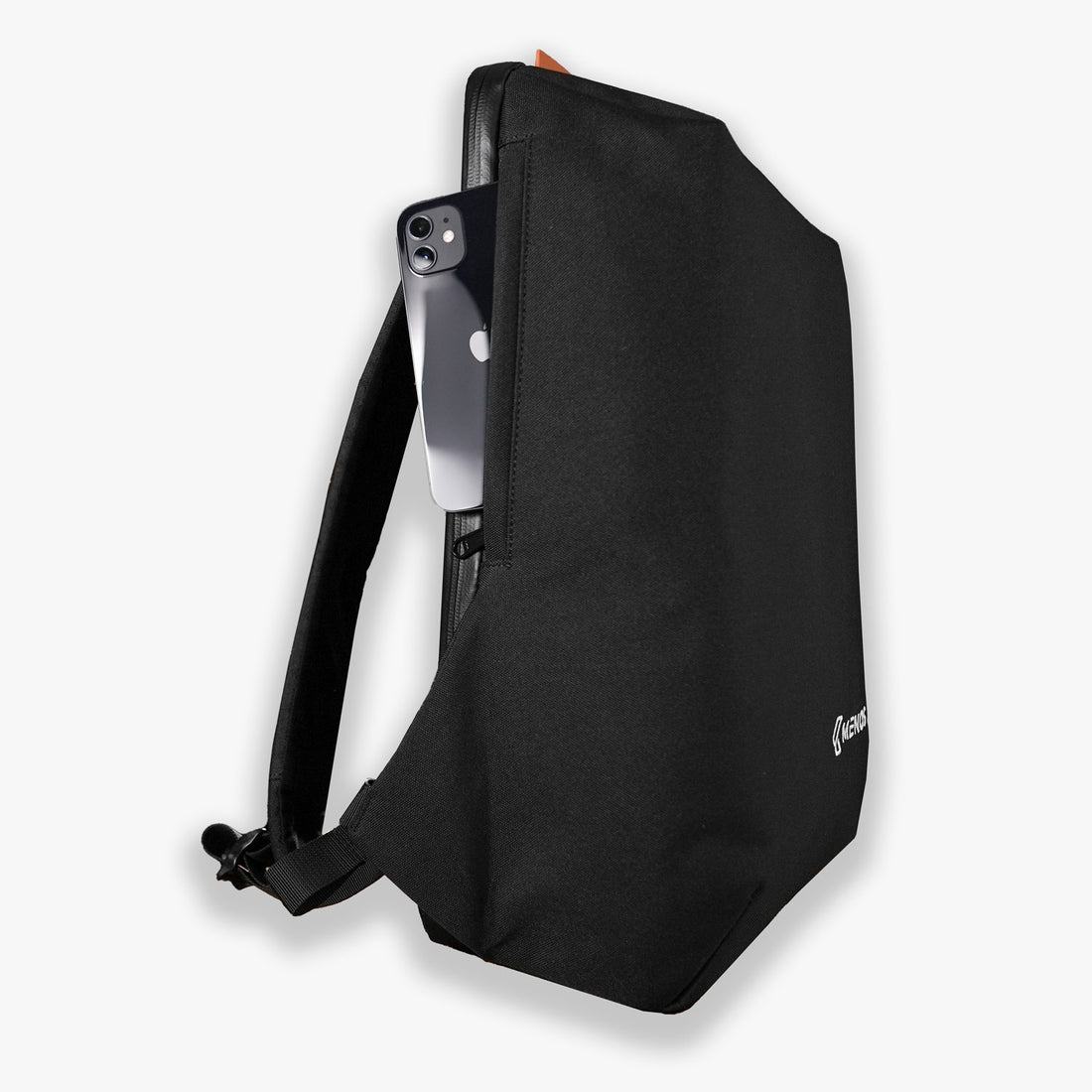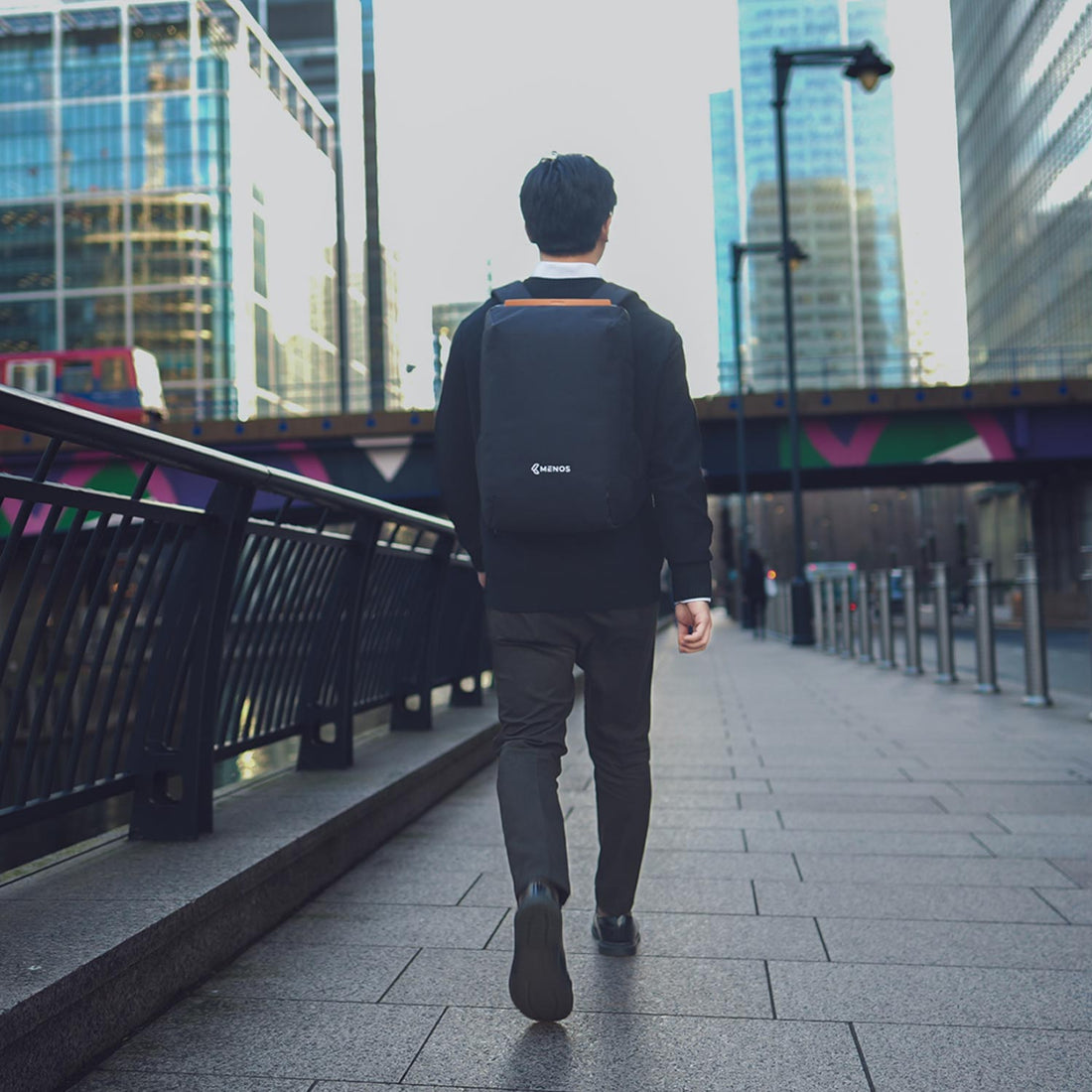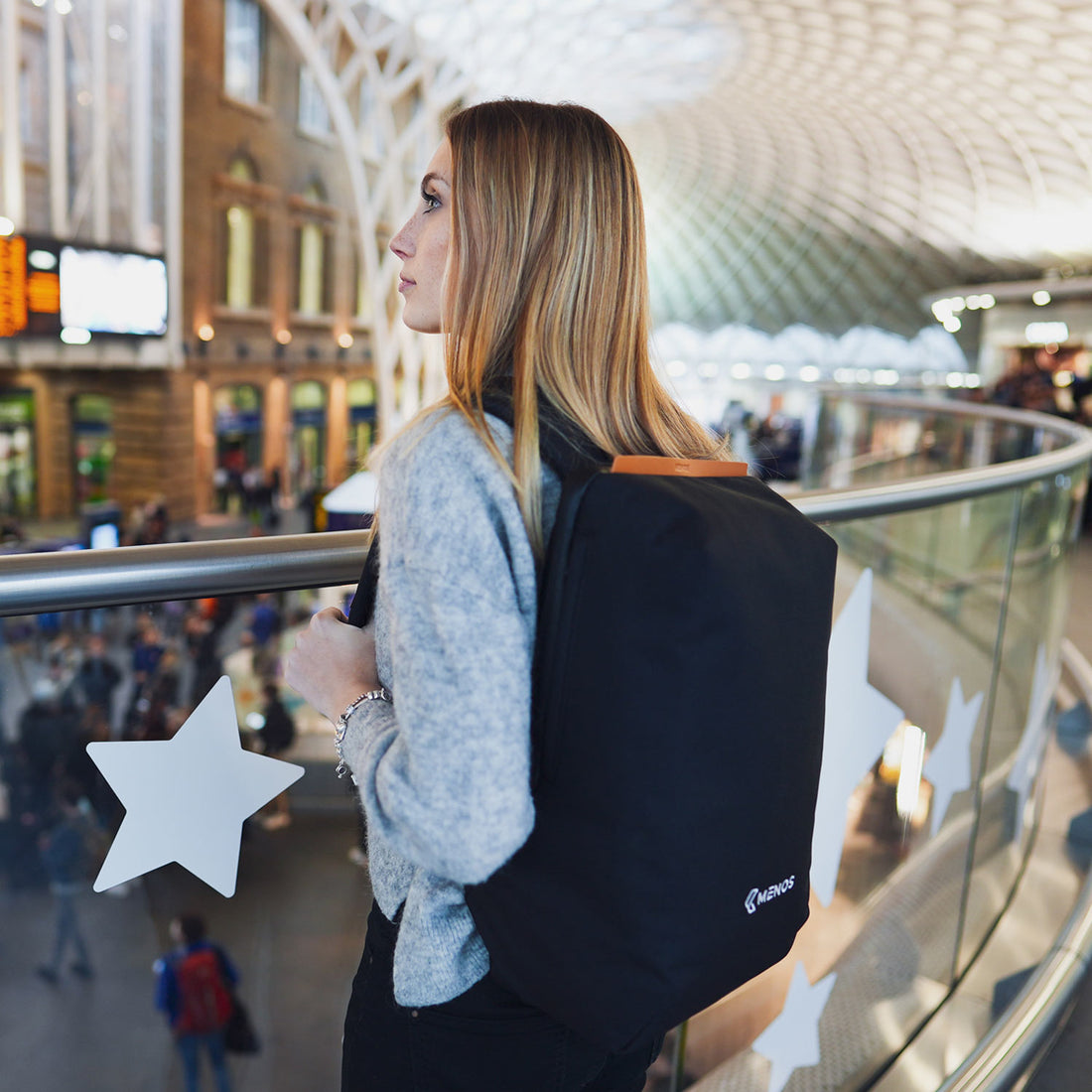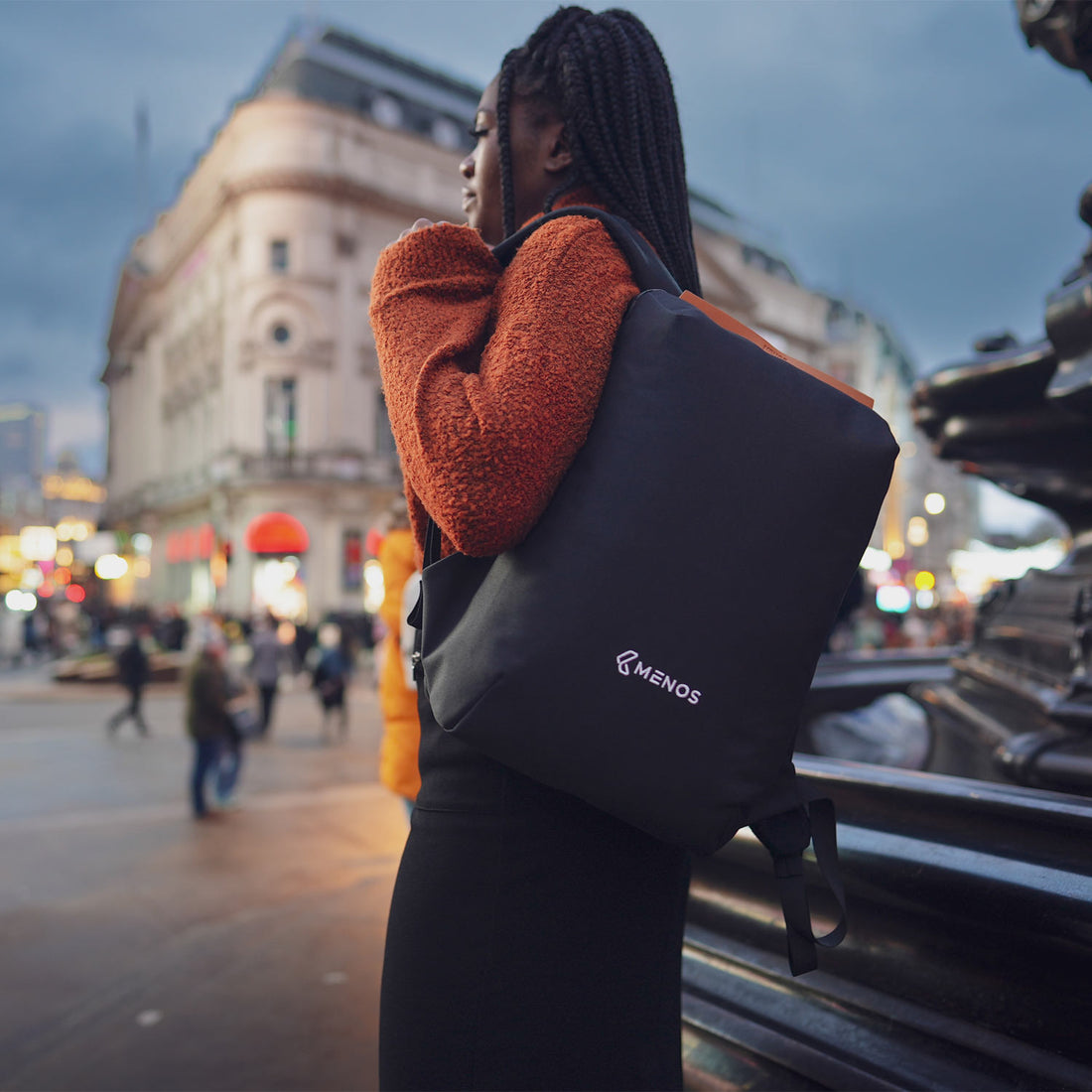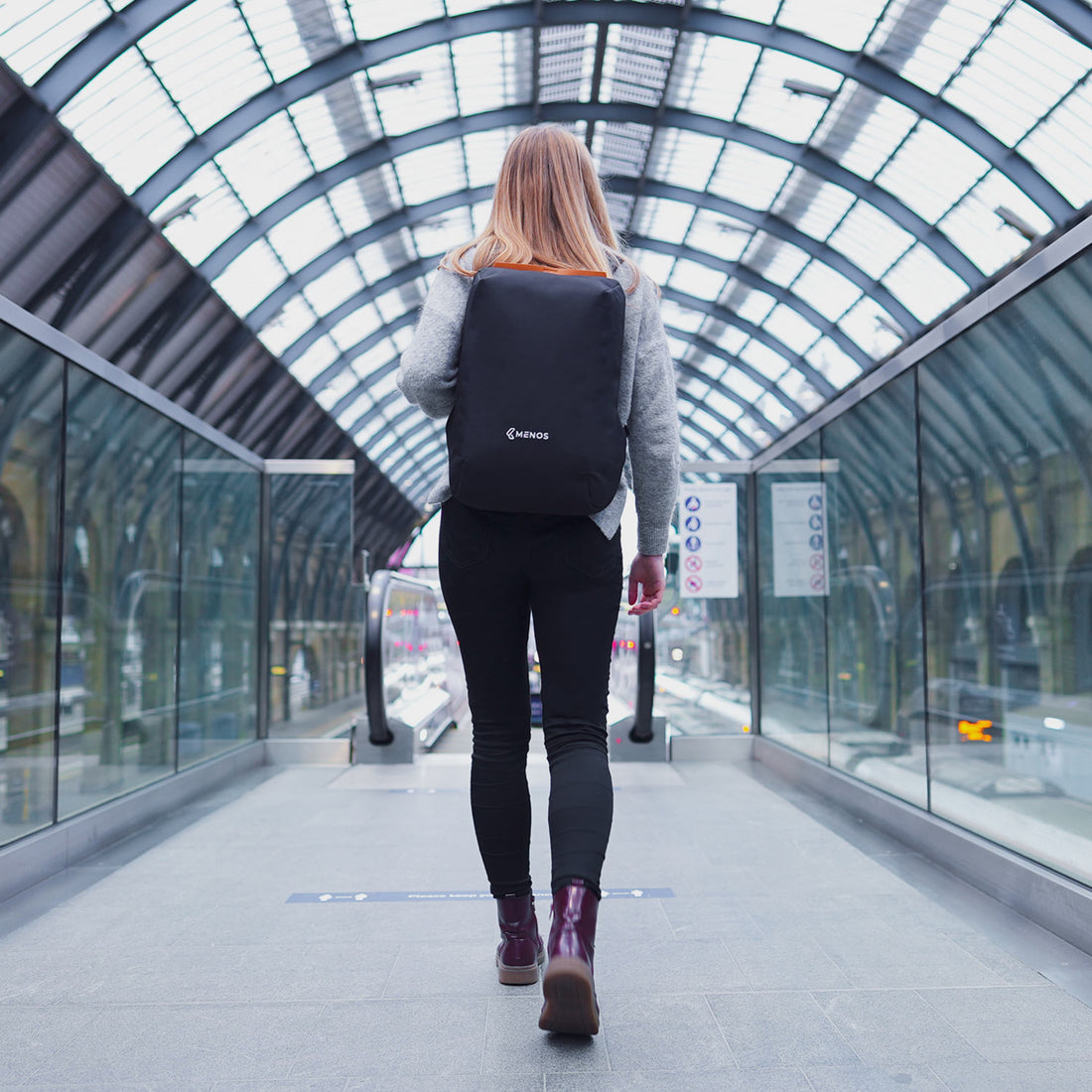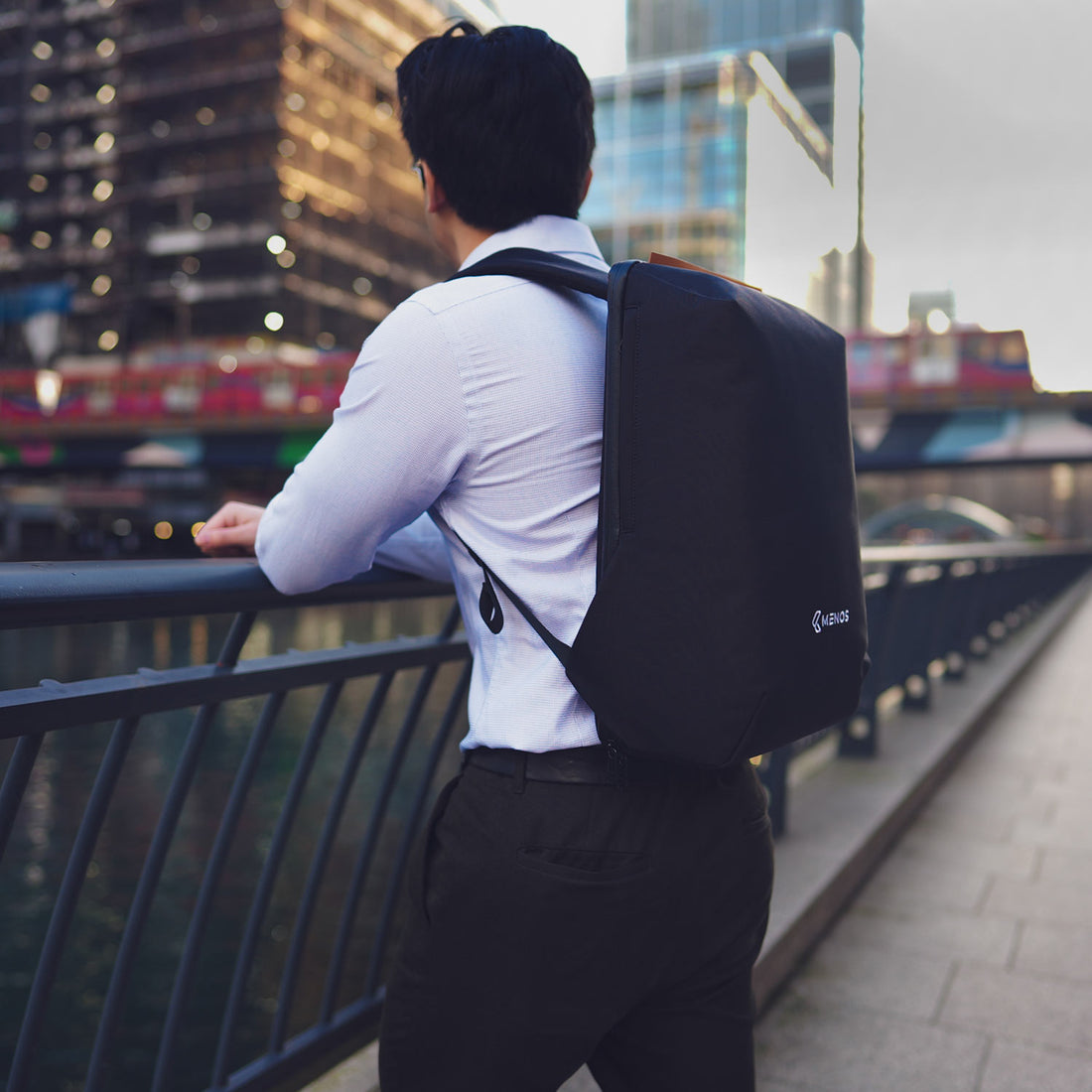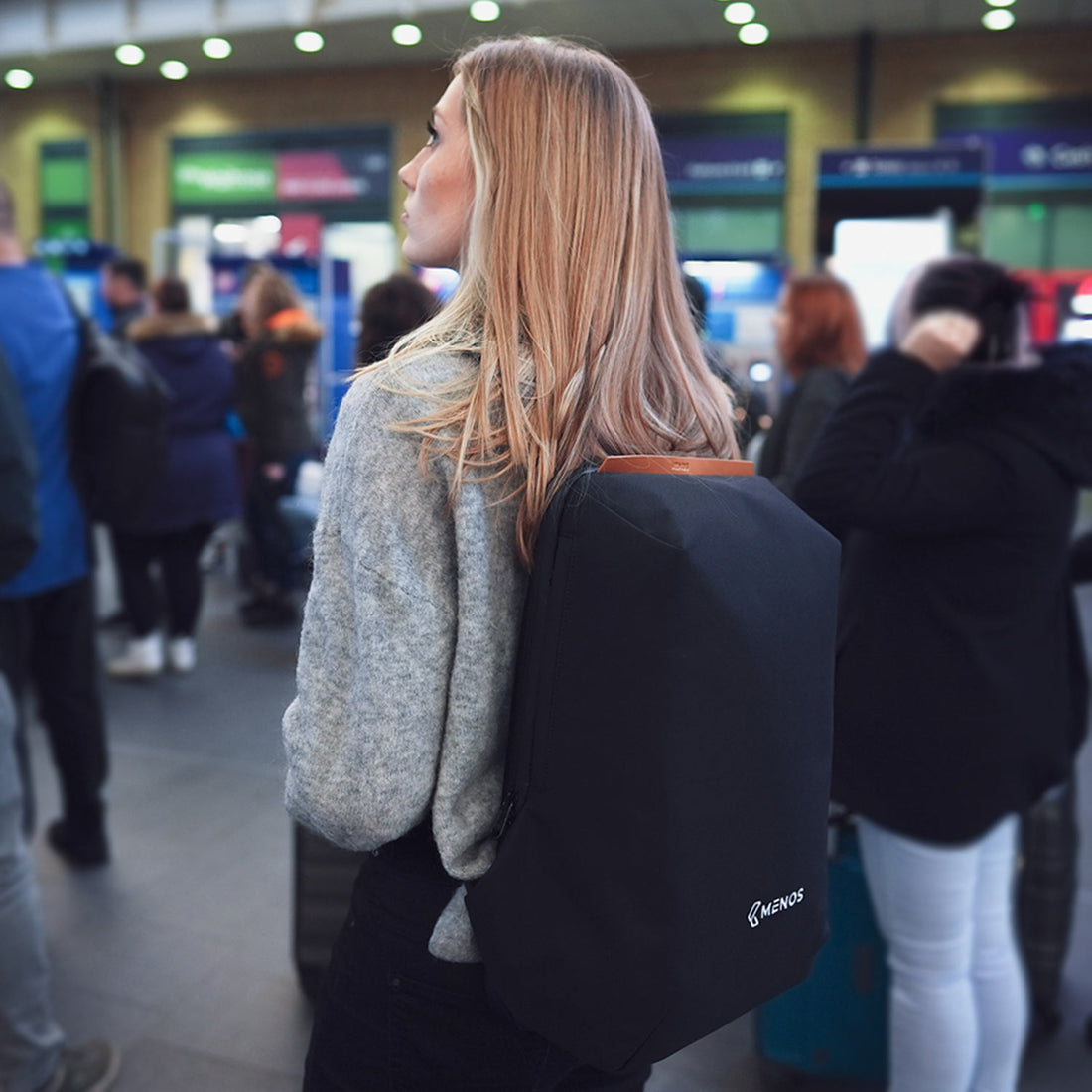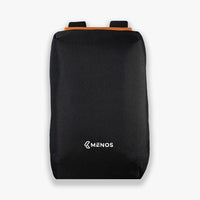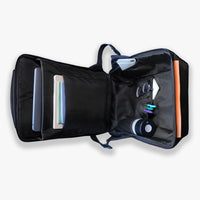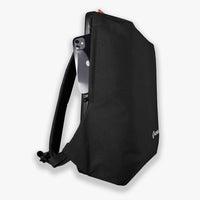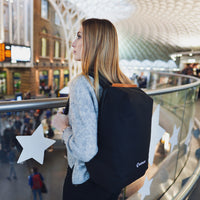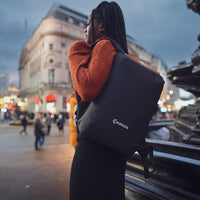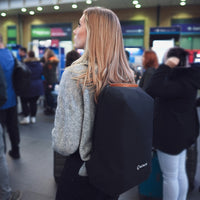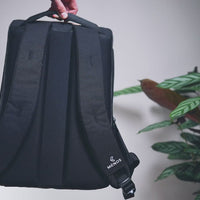 The Menos Backpack - Black
🌳 Plant one tree and collect 100 ocean-bound plastic bottles with this purchase 🌳
The perfect everyday (20L) backpack, made from recycled plastic. The Menos backpack combines a stunning, minimalist aesthetic with uncompromising functionality.
We want you to feel like a boss every time you head out into the world. On your way to work or at the airport jetting off on a weekend away, your backpack shouldn't make you look like you're off to summit Everest. But you also shouldn't have to compromise on functionality. 
We're tired of top-loading backpacks, having to unload everything just to find your favourite undies. We're tired of uncomfortable straps and excess pockets. We're tired of feeling more like a mountaineer than a sleek, young professional.

So, we created The Menos Backpack, designed to adapt to your needs, from the office to the airport.
• 100% recycled main body fabric and lining (15 bottles worth of post-consumer recycled plastic)
• 20L capacity (45cm x 32cm x 18cm)
• Water resistant
• Anti-theft, waterproof zip
• 180-degree clamshell opening
• Padded laptop sleeve (for laptops up to 17")
• Padded iPad or notebook sleeve
• Internal water bottle holder
• On-the-go USB charging port
• Hidden, soft-lined easy-access pocket
• Easily adjustable straps
• Supportive back panelling
• Quick-grab handle
Where is my order shipped from?
All orders are shipped from the United Kingdom.
How much will shipping cost?
Menos offers free shipping on all UK and EU orders.
For countries outside the UK and EU, all purchases will be shipped using Royal Mail or DPD - please see prices at checkout.
Please note: If you're in the UK, the price you pay is inclusive of all applicable taxes. If you're in the EU and your order is for less than €150, tax will be calculated for you at checkout. Other orders (over €150 or outside the EU) may be subject to local customs and duties.
Are returns free?
Pretty much, yes...
We'll provide UK customers with a return shipping label.
If you are outside the UK, you will have to pay to ship your return to us. We'll then give you a full refund and add on a bit extra to help cover the cost of return shipping.
180° opening
Pack effortlessly
Open the zip as far as you want. Drop your work essentials in by opening just the top (like a normal backpack), or fully unzip to pack for a weekend away.
On-the-go USB charging port
Never run out of charge
Inspired by Beth's inability to navigate without Google Maps, we wanted to make sure her phone never died. Simply plug your power bank in (inside the internal pocket) and power your phone on the go without opening your backpack.
Power bank not included.
Internal water bottle holder
Take your bottle with you
Our super sleek aesthetic meant we didn't want a water bottle pouch on the outside of the bag. Instead, you can keep your bottle upright with our mesh internal bottle holder. The war on single-use plastic isn't going to fight itself.
Padded 13-17" laptop sleeve
Keep your laptop safe
A padded laptop sleeve to protect your laptop while you're on the go. There's also a padded iPad / notebook sleeve.
Easy-access side pocket
Quickly find your keys, headphones or passport
Our soft-lined easy access side pocket is the perfect place for your passport, phone, airpods or keys. It's hidden to protect your valuables from thieves (and maintain our minimalist aesthetic).
Free cabin bag size
Don't pay for hand luggage
The Menos is 45cm x 32cm x 18cm, which makes it more or less the biggest bag you can take on (most) European airlines for free. For a weekend away, the Menos could save you £50 in on-board baggage allowance!
Recyled, water-resistant material
100% recycled RPET fabric is highly water resistant, meaning you can be confident that your stuff will stay dry even in 30-60 minutes of heavy rain.
Quick-grab handle
The Menos has a sleek quick-grab handle designed to hold firm under considerable weight for years to come.
Anti-theft, waterproof zips
Every zip on The Menos Backpack is made by YKK (the world leader in durable zips). Our outer zip is waterproof and hidden... not a good day to be a pickpocket.
90-DAY TRIAL PERIOD
Try out your Menos backpack for 90 days.
If, by the end of that, you don't think it's the best backpack you've ever owned, we'll give you a full refund.
Best Backpack Ever!
After not finding a backpack that was affordable but also met my needs in terms of the style for a professional environment with the ability to carry everything I needed day to day, I decided to buy the Menos Backpack.
It arrived very quickly with a handwritten thank you note and eco-friendly packaging in line with the brand's ideals.
I had a couple of questions soon after buying the bag, contacted the team at Menos, and received a personalised reply less than 24 hours after sending the message.
I've only had it for a couple of weeks but it has been a game changer for me, I felt able to carry everything needed for any eventuality without it being overstuffed or heavy, and no sweaty back!
It feels high quality and well put together in addition to being extremely well thought out, I hope it lasts the test of time, but if you're considering one, don't hesitate.
Menos Backpack
This is exactly has advertized. I have been enjoying my backpack so much. It is light and comfortable to wear. I can fit everything l want into it: computer, ipad, chargers, notebooks, miscellaneous pens, etc, workout clothes(minus the shoes). And you can tell it is well made. I really appreciate the water protection for when l get caught out in the rain.
Functional and sleek, one issue though
If you're a more active person, you may not like this backpack since it does take a bit more time than a traditional one to open/close and there is no outside water pouch. I found it really nice for college, lots of compliments.
Simply wonderful!
I feel in love with the bag! It's kinda companion!
Great!
Love the design. Great value for money and fast shipping to Denmark as well. Highly recommend to everyone!
Sustainability
Buy 1, collect 100
When you buy a Menos backpack, you fund the collection of 100 ocean-bound plastic bottles before they reach our seas. 
Locals in coastal communities exchange the plastic they collect for money so they can get access to healthcare, tuition, quality food and other things they need. 
Learn More >>
here to help you
boss the everyday.